General Assembly update
Below is an update on the UU SGM Network's GA programming.

The Small Group Ministry Network is planning the following activities at General Assembly in Fort Lauderdale, June 25-29, 2008. Check at the Booth for updates and additional information.
ANNUAL MEETING
The Annual Meeting of the UU Small Group Ministry Network is scheduled for Saturday, June 28, 1:30 PM. The draft agenda for the Annual Meeting Agenda includes the following items. The location of the meeting and the final agenda will be available at the Booth:
1. Welcome/Introductions/Opening Words

2. Minutes from last Annual Meeting

3. Report of the President on activities for the last year and status of the Network

4. Financial Report

5. Approval of Bylaws changes – please see the Summer Quarterly and the web site for proposed changes.

6. Report of the Nominating Committee

7. Election of Board Members

8. Plans for the coming year, including the conference at The Mountain

9. Open discussion on the work of the Small Group Ministry Network

10. Closing Words
EXHIBIT HALL: Please visit us in the exhibit hall at BOOTH #432
Resources, opportunities to talk with people about Small Group Ministry and Covenant Groups, share what is working and what the challenges are for you.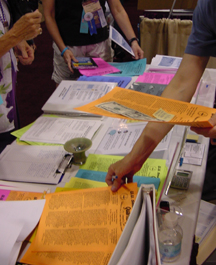 In addition to the many ongoing resources, there will be new items:
*Behind the Scenes: Implementing Small Group Ministry, a compilation of materials from the SGMN web site and Covenant Group News, with some new material (for sale);

*Directories of resources on and linked with the SGMN website and of Small Group Ministry/Covenant Group Sessions;

*A Prototype of a Facilitator's Manual and a request for your input on what needs to be included.
Booth Chats are being planned. We appreciate the interest in sharing ideas around specific parts of Small Group Ministry. If you have a topic to suggest for a chat of up to a half hour with possibility of ongoing discussion, please contact us at Office@smallgroupministry.net with your suggestion, something that you have to share, and a suggested time.

WORKSHOP
#3058 Strategies and Solutions for Small Group Ministry Challenges
Friday, 3:15-4:30 pm Convention Center Grand Floridian F
GA Planning Committee, Small Group Ministry Network
Many congregations are using Small Group Ministry to meet the needs for intimacy and spiritual growth. We will provide strategies to successfully run programs to prevent and avoid common pitfalls. We'll focus particularly on handling "extra grace needed members," and hidden cultural biases that can limit program effectiveness.
Presenters are: Diana Dorroh, Baton Rogue, LA; Rev. Russ Savage, Bethesda, MD, Steve Becker, Seattle, WA
Labels: General Assembly