Peter Freedman Bowden
Co-Founder, UU Small Group Ministry Network

In 2001 Peter launched this website to help Unitarian Universalist discover and explore small group ministry. From 2001-2004 this site was run as a personal site. In 2004 Peter recruited the Rev. Calvin Dame to work with him on forming a UU organization to support small group ministry and covenant groups within the UUA. After meeting M'ellen Kennedy at the April 2004 Center for Community Values (CCV) small group ministry conference the three moved forward. The network was launched at the 2004 General Assembly, including the launch of a membership program and the SGM Quarterly journal.
You can read more about Peter's work with small group ministry and his work with Unitarian Universalist congregations on his website, UU PLANET Ministry & Media.
GroupWise! New articles from Peter Bowden
I will be writing more about small group ministry in 2008, documenting what I have been sharing in trainings, consultations, guest speaking, but previously not in print. Articles will be shared via my e-newsletter "Groupwise!" and will not be available elsewhere unitl a book is ready. I welcome readers and feedback.
Click here to subscribe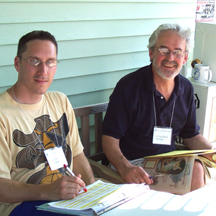 Peter Bowden & Calvin Dame
at Ferry Beach 2005