CGNews #88
Covenant Group News is a free electronic newsletter on Small Group Ministry and Covenant Groups read by 1300 forward-looking Unitarian Universalists. CGNews is edited by Peter Freedman Bowden (http://www.uupanet.com) and distributed by the UU Small Group Ministry Network (http://www.smallgroupministry.net).

Contrary to popular belief our network is not funded by the Unitarian Universalist Association of Congregations, though we did start with funding from the UU Funding Program. Reality Check: We are a grassroots organization made up of you, me, and the thousands of other UUs working with this ministry... We are funded by a membership program ($35 per individual and $60 per congregation annually). Your memberships make all the groovy things we do possible. -- Peter

IN THIS ISSUE
* Message from Peter Bowden
* New Sessions from Jolinda Stephens
* An Invitation from Skinner House Books
* New UUSC Small Group Resources
* New Sessions from Rev. Amy Bowden Freedman & Channing Church
* Subscribe/Unsubscribe

April 30th, 2007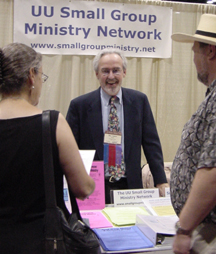 Three years ago this June the UU Small Group Ministry Network was launched as an organization to promote and support UU small group ministries and covenant groups. We've accomplished a great deal since then, from compiling free sessions plans online and publishing the SGM Quarterly to offering GA workshops and week long Summer trainings. We have been working to build a network that can meet our shared need for small group ministry resources.

We've come a long way, but there is still much to do. Our network -- including you if you are reading this -- is a peer network. We are group participants, facilitators, coaches, coordinators, ministers and others working to deepen our faith, change lives, and heal our hurting world through this ministry. I believe the only way we can realize our potential as a movement is through strong relationships and the small groups that give rise to them. As our small group ministries grow and evolve, so too will our association. If you share this view, I'd like to invite you to become a member of our network for $35 per year.

Your individual memberships allow us to advance this ministry, to coordinate our efforts, and to move our movement. Members of our network receive the SGM Quarterly, our journal, in the mail four times per year. Please join me in creating healthy congregations and a vital Unitarian Universalist movement through our shared ministry. You may use the link below to download our membership form. If you would like to join as a congregation ($60 annually) take this form to your congregation's small group leadership.

Download Membership Form
http://www.smallgroupministry.net/pdf/Membership%20Form.pdf

New and existing members, thank you for your support! To the other ~987 of you - let us know how we can improve. If you're reading this message you must have some resource, networking or training need related to small groups. We want to hear from you.
You can post comments below.

In faith,
Peter

Labels: Covenant Group News